Facts about feet
Australia has the second highest rate of diabetes related amputations in the developed world.
When you have diabetes or vascular problems you need to care for your feet every day.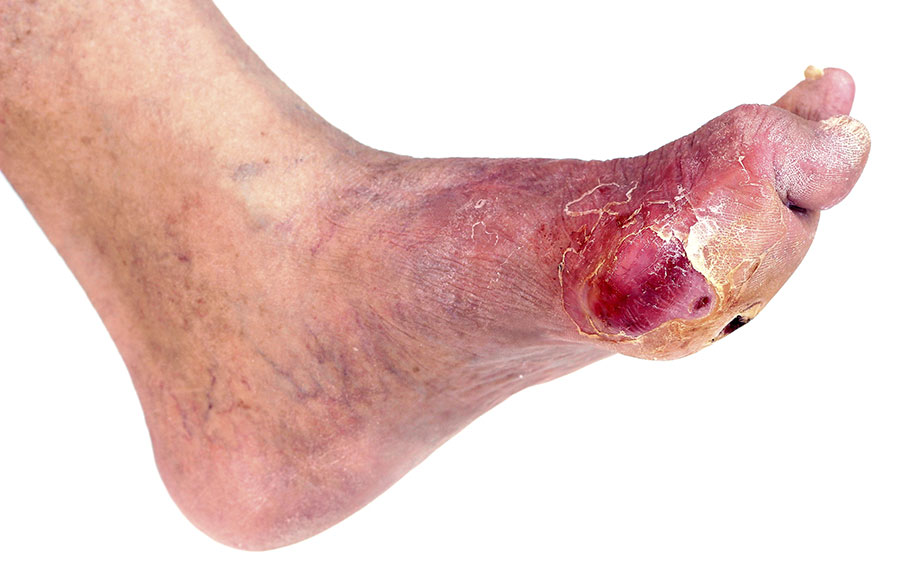 High Risk Feet
A high risk foot is one that is vulnerable to amputation. People with high risk feet usually have less sensation due to poor blood flow or nerve damage; meaning that feet may feel numb, cold or both. This is often the result of diabetes or vascular disease. Due to the lack of sensation you may not notice things like a stone in your shoe, or if your shoe is not fitting correctly. Blisters or skin damage can go unnoticed. For this reason it is important to check your feet every day, and report any new problems immediately. People with high risk feet have usually experienced an ulcer, infection, or have possibly already experienced an amputation.
Foot ulcers
Diabetic foot ulcers are sores that occur on the feet of people with Type 1 and Type 2 Diabetes that fail to heal in a timely manner. Diabetic foot ulcers often occur on the bottom of the foot. They require immediate treatment.
Calluses
A callus is an area of hard, thickened skin on foot that has formed in response to pressure or friction. Ulcers can form under callus.
Claw toes
A claw toe is a toe that is bent at the middle and or end joints in the toe, and can lead to severe pressure and pain; particularly if wearing poorly fitted shoes.
Amputation
Is the permanent surgical removal of a body part.

People with high risk feet should have regular check-ups. If you have high risk feet you should have them checked by your doctor or podiatrist every 3 to 6 months.

Aboriginal and Torres Strait Islanders suffer the greatest risk of amputation as a direct complication of diabetes. Major amputations are 38 times more likely in Aboriginal people that non-Aboriginal people (aged 25 – 49).
If you are working in remote healthcare and would like access to Care 4 Feet information please email info@care4feet.org.au or telephone toll free 1300 782 231.
Low Risk Feet
A low risk foot can be described as a foot which has normal feeling and sensation, for example; you would be aware if you had a stone in your shoe, and no history of foot ulcers or amputations. Low risk feet have a healthy skin colour and are normal in temperature. If you want to know more about your foot health visit your doctor or podiatrist.